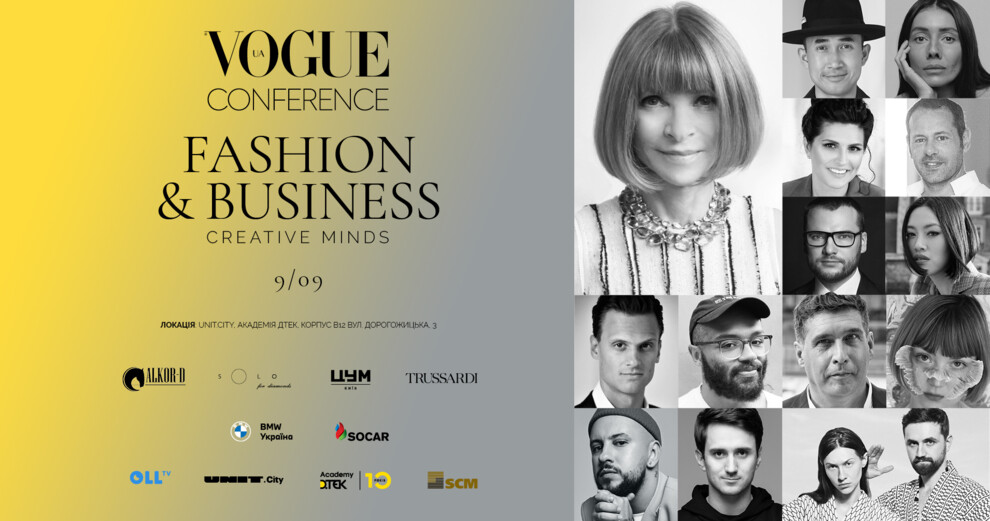 Anniversary Vogue UA Conference
On 9th September 2021, the Ukrainian magazine Vogue will hold the 5th Fashion & Business conference.
The theme of the conference is Creative Minds. The event will be opened by Anna Wintour, editor-in-chief of American Vogue and one of the most influential figures in the global fashion industry.
Turbulent times require new ideas and inspiring solutions. That is why Vogue UA dedicates the fifth annual conference not only to extraordinary talents but also to original meanings that are born in the creative process. Anna Wintour, editor-in-chief of American Vogue and editor-in-chief of Condé Nast, will tell about creativity as a value.
Because of the pandemic, the conference will be held in an innovative format that combines an offline event with a limited number of guests, live broadcast and technology solutions using augmented reality. In addition to the traditional performances of international experts, viewers will see a showcase of digital art. The world's most famous Ukrainian photo duo Synchrodogs is preparing a digital art project for the Vogue UA Conference together with the Ukrainian studio deep3dstudio, which works in the area of 3D human scanning.
The speakers of the conference will be the editor-in-chief of Vogue Singapore Norman Tan, founder of the Brud technology startup Trevor McFerdis, who invented the digital model Lil Mikelu; 3D artist from Paris Ines Alfa, who collaborates with Dior Make Up and Burberry; Massimiliano Giornetti – director of the fashion school Polimoda, who has been the creative director of the men's line Salvatore Ferragamo for a long time; Julia Pelipas – in the recent past, the fashion director of Ukrainian Vogue, today the founder of a brand with a philosophy of sustainable consumption bettter.
 More information about the conference is by the link.
The partners of the conference are Alcor D, Solo for diamonds, Central Department Store Kyiv, BMW, DTEK Academy, UNIT CITY, OLL TV
The source: VOGUE.UA