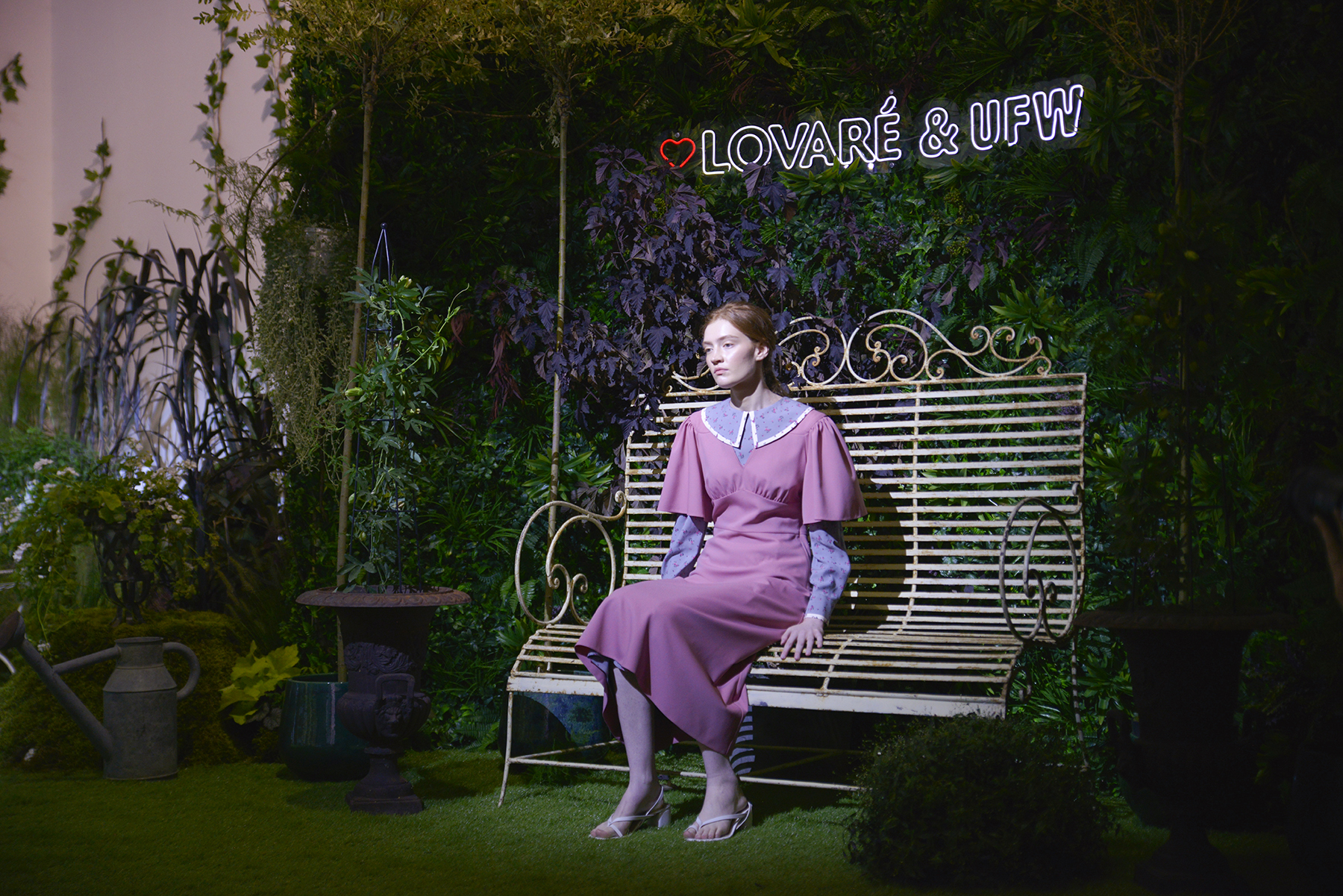 Feel the beauty: LOVARÉ & Ukrainian Fashion Week collaboration
Ukrainian tea LOVARÉ has ​​become an official partner of Ukrainian Fashion Week noseason sept 2021.
LOVARÉ is an innovator-brand that strives to set trends in the market.
This tea is about beauty, tenderness, femininity, about time over a cup, dedicated to yourself. Natural author's compositions based on black and green tea with flowers and fruits will captivate with their mysterious aroma, deep taste and magic of sensations.
This year on UFW, fashion admirers were fascinated by the new collections of Ukrainian designers, and between shows – tasted with pleasure LOVARÉ tea.
The LOVARÉ brand corner has gathered the largest number of visitors! It was an extraordinary beauty! Guests had the opportunity to attend an improvised "English garden", take glamourous photos with floral decorations in the background, sit at tea tables and arrange a tea ceremony.
I day of UFW noseason sept 2021
On the first day, the LOVARÉ brand location was transformed into Buckingham Palace. Lucy Barnabas, an expert on British etiquette and a famous chef, visited the space. She held a master class, where guests together with top models – Alla Kostromichova and Tetyana Bryck learned to prepare and serve tea as real ladies do during 5 o'clock tea.
What guests saw was inspiring to take their favorite tea set and make a tea ceremony at home – a good tradition.
II day of UFW noseason sept 2021
On the second day, the Ukrainian brand POUSTOVIT in partnership with LOVARÉ presented an autumn-winter collection of tea dresses.
It was not just a show, but a mysterious performance that gathered loud applause and breathtaking looks! Guests admit that they immediately looked for dresses, which they will wear at friendly meetings or social events.
Soft fabrics, delicate palette, pastel colours of pink and blue combined with shades of ochre with vivid green on the background and under the accompaniment of live music by composer Eric Sati, performed on the piano, created a special atmosphere.
"Inspired by the style of Great Britain of the 1930s, we created restrained, laconic dresses, where each model has its own special detail, and the colour palette reflects nature itself", – designer Lilia Pustovit mentioned.
From the history of tea dresses:
According to legend, Anna, the Duchess of Bedford, in the 1830s, unwilling to starve until late dinner, asked the maid to bring her a teapot and snacks.
She enjoyed the snack and began to invite the others to join. Later, 5 o'clock tea became fashionable among aristocrats and then became a national tradition.
Thus, a steady trend for tea dresses began to appear. It was not just home clothes, but light and elegant TEA DRESSES, in which ladies could enjoy tea with friends and forget about uncomfortable corsets.
Today, a romantic "flower" dress is in the wardrobe of almost every fashionista and often appears in the street style chronicles of royal families. In particular, Kate Middleton loves to wear tea dresses.
III day of UFW noseason sept 2021
On the third day, there was a master class from the "Territory of Creativity" on creating flower wreaths. Each floral composition corresponded to a certain taste and style of LOVARÉ tea in updated tubes.
Delicate petals and bright leaves had to be attached to a "leg" twisted from a dart. The guests made their own hoops of flowers and realized how much effort florists and decorators put into combining their artworks.
IV day of UFW noseason sept 2021
On the fourth day, LOVARÉ corner turned into a creative studio again. Under the supervision of the masters, the participants made extraordinary brooches from LOVARÉ compositions and decorated their outfits with them.
But the final impressed everyone! It was spectacularly. It was sincerely. It was just a WOW! The brand team has put all their soul and heart into their extraordinary project, it sprinkled everyone with flower petals, presented bouquets and gave LOVARÉ tea.
A little bit tired, but happy, the guests had tea together, shared their impressions, sang songs, danced and felt exactly the beauty that LOVARÉ tea reveals.