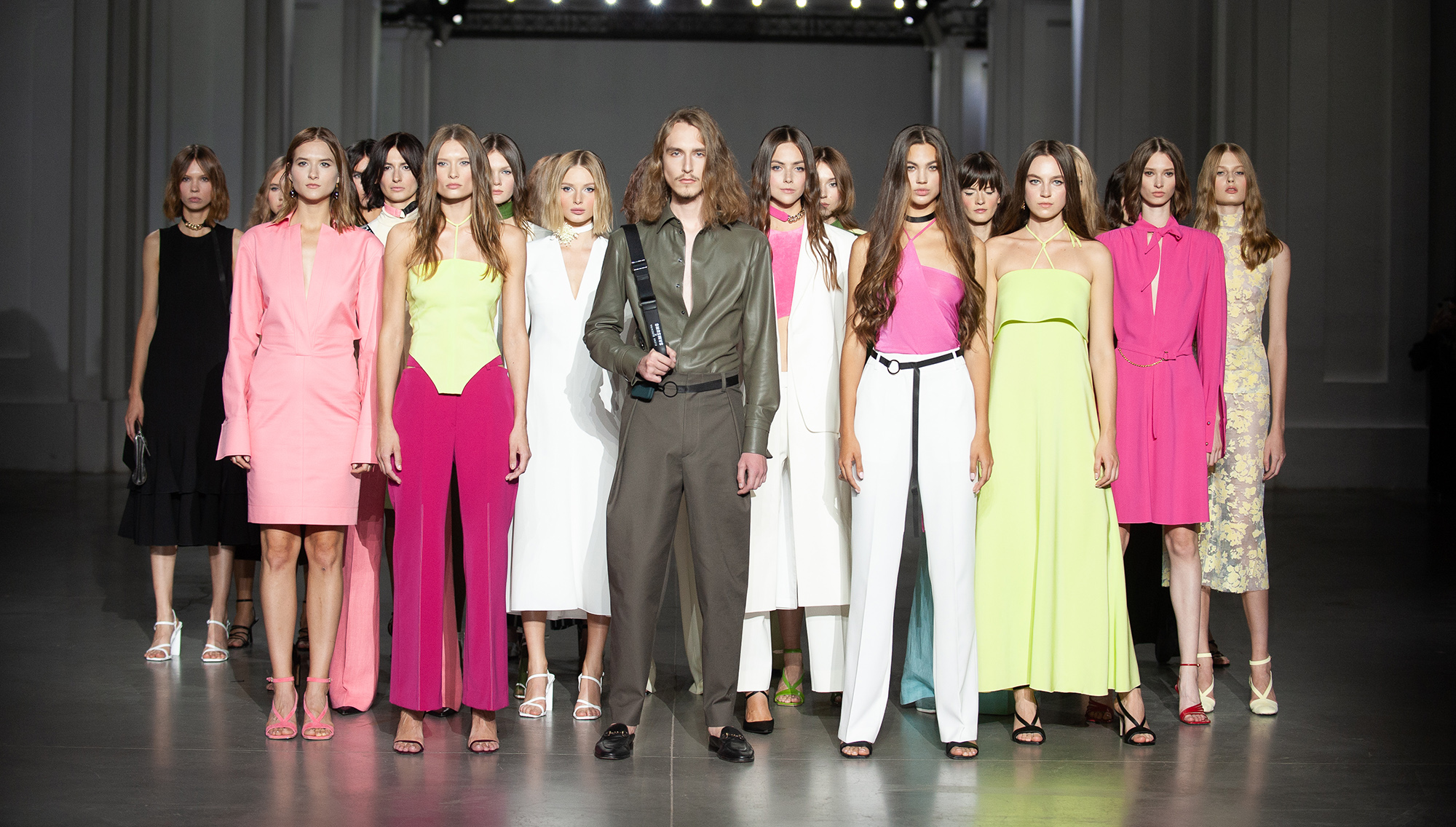 Elena Burenina SS22 Sweet Hope
The name of the Elena Burenina new collection refers to the lines of the English romantic poet John Keats: "Sweet Hope, ethereal balm upon me shed, And wave thy silver pinions o'er my head".
Today people especially need support, bright colours and hope.
Hope for a new beginning can be read, first of all, in the colour palette of the collection: the designer has stepped away from the usual black and white palette, focusing on shades of pink, green and yellow. Lime, cream, sky blue, olive, light pink, fuchsia – they are about happiness, hope and love.
This season, laconic trouser suits (brand distinguished feature) are presented along with short skirts and tops of complicated tailoring, elegant dresses with draping, ruffles and sensual cuts. There were selected such materials – soft silk, cotton, leather and lace – which also work on creating a festive atmosphere. The romantic mood of the collection is supported by accessories: earrings with pearls and chokers with golden elements or ones decorated with flowers. The name "Sweet Hope" is made on stylish leather straps for smartphones – the result of a collaboration between Elena Burenina and the leader in technological innovation, Samsung Electronics.
During the show, the models appeared on the catwalk with Samsung's new flagship models: Galaxy Z Fold3 and Galaxy Z Flip3. The models took selfies, filmed videos, talked on the phone. The soundtrack to the show was a mix by Nikita Potapchuk (dj MYKYTA), which masterfully combines electronic and classical music.
The touching moment of the show – the final walk and the bow of the designer – also was with the Samsung flagship. At the last minute of the show, Olena Burenina, accompanied by a violin, went out to the models to greet the guests and take a memorable photo on the Samsung Galaxy Z Fold3 camera.
"For me, partnering with such a large international company as Samsung is a great honor and a big responsibility. Fashion and technology always go hand-in-hand, and we were able to demonstrate this at our show as a part of Ukrainian Fashion Week", –Olena Burenina.
In addition to recent collaborations, the designer did not miss another important trend – sustainable fashion. Some of the things in the new collection were sewn from archival fabrics. For example, a men's leather shirt from the "Sweet Hope" collection resonates with a leather dress from the "Cloud Dancer" collection FW20-21, and a spectacular pink set of shorts and a jacket with an overlay bow – a "link" to a suit from "The Butterfly Effect" SS20.