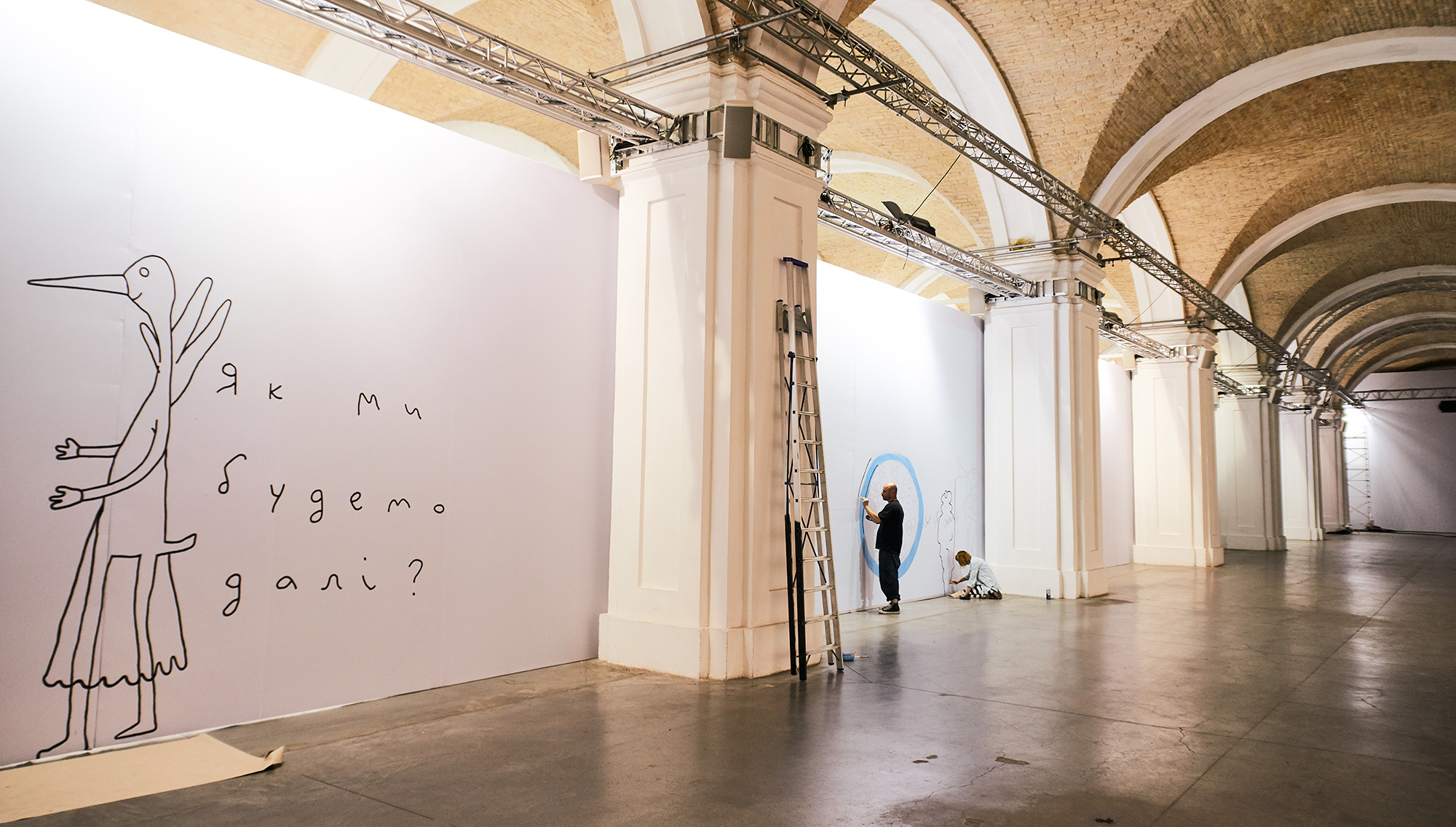 Oleksiy Sai and Alevtina Kakhidze for Ukrainian Fashion Week noseason sept 2021
Alevtina Kakhidze, artist, performer, UN tolerance envoy in Ukraine and Oleksiy Sai, artist, sculptor and installation artist and civil actor, painted the walls of the Mystetskiy Arsenal hall. Artists` drawings have become a decoration of UFW noseason sept 2021 and encourage guests to think about responsibility.
The basis of the issue revealed by artists through drawings for Ukrainian Fashion Week noseason sept 2021 has become the intersection of the theme of sustainability and responsibility for the future.
"I'm not very involved in fashion as an industry, but I can see that in any industry there is a responsibility and there is something that goes beyond the purely beautiful side. And we thought about what we can say as artists with Alevtina, and here we have two crossing themes: sustainability and warnings for the future. And fashion, in my opinion, plays a huge role in visualizing the future by its nature. The general concept is that in the future we need to think about something responsible and useful for all people", – Oleksiy Sai emphasizes.
Moreover, Alevtina Kakhidze mentioned: "I have been studying the issue of Sustainability for a long time… In the fashion industry, I hear this word with questions – how and what clothes and shoes to make to embody the concept of sustainability? Discussions in this area in the field of the fashion show that absolute sustainability does not currently exist. So, I drew a vessel in which there is still the boundless stability that the industry dreams of. Absolute sustainability is a perfume that should not be kept open. In another mural painting, boundless permanence is depicted in the clouds – something that is unattainable and is closer to the distant future than to the present. Although the future is a choice, so we should not talk about one future, as usual, but about several futures – there are futures, not one. We can choose one of the possible … I actually choose the future in which stockings are created by plants. I don't have any research or evidence that such stockings are possible, but I believe."
The picture "Thank you to the plant for the stockings in 2050" was published in Ukrainian Vogue, Italian and French.