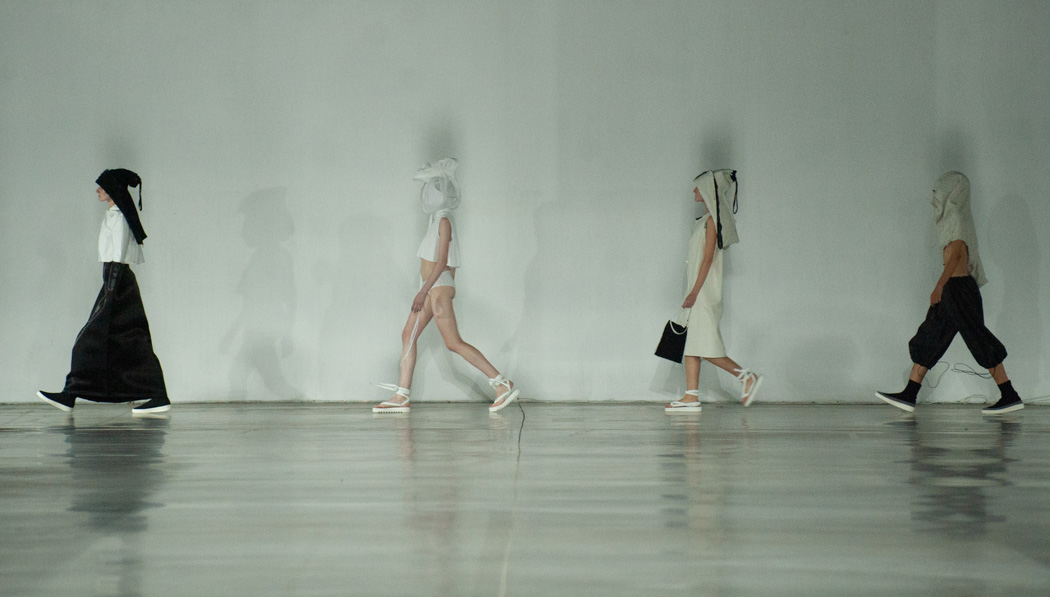 DZHUS SS22: PHYSIQUE
In DZHUS SS22 collection of multi-purpose clothing and accessories, created with the support of the Ukrainian Cultural Foundation, Irina Dzhus ironises about the established stereotypes about human appearance and exaggerated optimism of the new trends. DZHUS compares emancipationt to the body cult in symbolically sexualised silhouettes featuring grotesque proportions. Exhibitionism coexists with introversion in all-covered outfits showing surreal, anatomic-looking details while being modified. While design of collars and pockets refers to breasts' shape, pleated wig-like hoods are an allusion to hair obsession in the mass culture.
The lingerie theme is boldly translated in the garments' structure: 2 underwear bottoms merge into a top, whereas bra details are multiplied, forming a distorted biomorphic look. The ethically sourced fabrics are playful and emotional: from double-faced cottons to immense pleating, from glossy silk to soft melange, from ribbed wool to crumpled organza.
DZHUS deciphers sartorial patterns, meant to fit human body, and integrates recognisable cut elements in clothing details that, eventually, transform into bags and headwear. Created for both a procrastinating escapist and a hyperactive media icon (possibly, same person), cosy DZHUS sweatpants turn into an appealing dress in a few seconds, and a statement skirt folds as a colossal shopper bag.