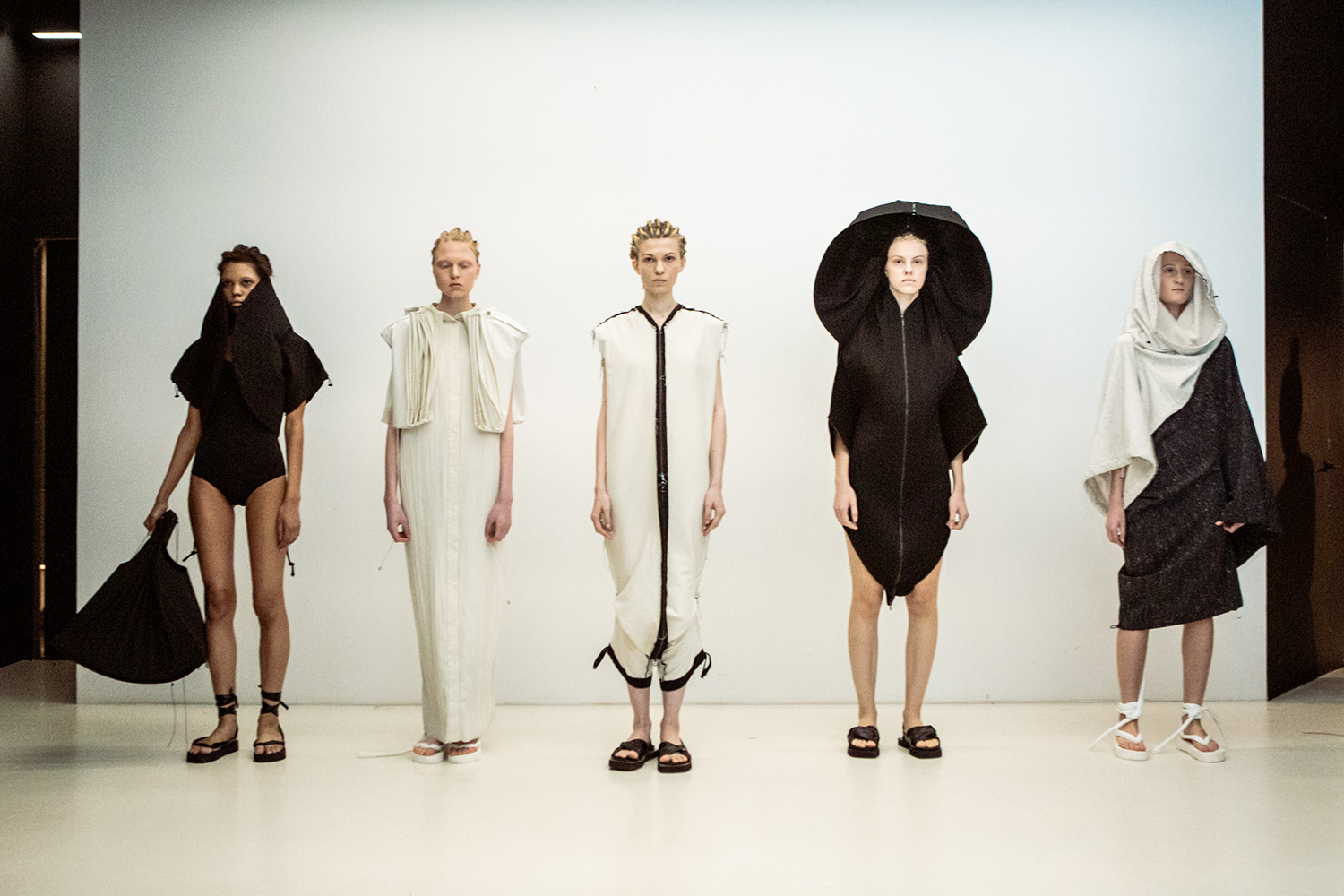 Presentation of DZHUS SS22: PHYSIQUE collection
On 23rd September, DZHUS SS22 «Physique» collection, produced with the support of the Ukrainian Cultural Foundation, was presented at Ya Vsesvit.
In DZHUS SS22 collection of multi-purpose clothing and accessories, Irina Dzhus ironises equally the established stereotypes about human appearance and exaggeratedly optimistic new trends. DZHUS juxtaposes empowerment to the body cult in symbolically sexualised silhouettes featuring grotesque proportions.
In the collection, the exhibitionism coexists with introversion in all-covered outfits showing surreal, anatomic-looking details while being modified. While the design of collars and pockets refers to breasts' shape, pleated wig-like hoods are an allusion to hair obsession in the mass culture. The lingerie theme is boldly translated in the garments' structure: 2 underwear bottoms merge into a top, whereas bra details are multiplied, forming a distorted biomorphic look.
Within the presentation, the brand's team has prepared for the guests a premiere of «Exhibitionism» fashion film by Whodidzis? video production, the release of DZHUS
SS22 campaign, shot by Vova Klever, was created with the support of the Ukrainian Cultural Foundation. Moreover, there was a mini-performance with the signature looks' transformation, a showroom of the collection and presents from the beauty partner – White Mandarin natural self-care products. And all of that was accompanied by an exclusive soundtrack by a US musician EYIBRA, Latinium cocktails and YARO healthy sweets.
Cruelty-free footwear for the performance was provided by House Martin.
96 Group took care of the models' makeup and hair.
Photos from the event:
Alexandr Tsybulsky @escorzo.portraits
Anna Shulgina @a__shulgina
Max Martin @maxmartinfolio