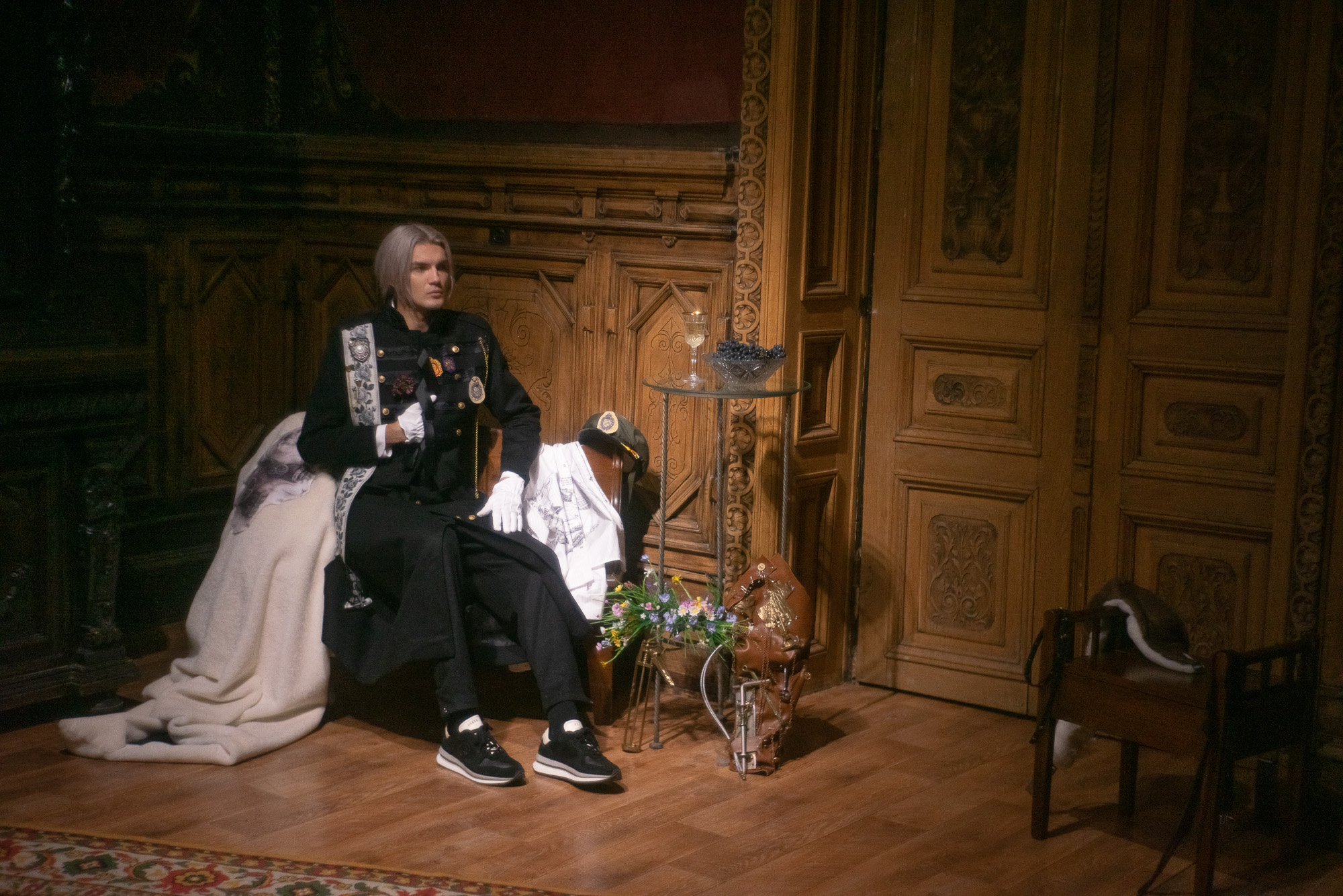 «Mr Robot» by YADVIGA NETYKSHA ready-to-wear FW21-22
On 12th October, a presentation-performance of the «Mr Robot» ready-to-wear FW21-22 collection by YADVIGA NETYKSHA took place at the Art Center in Shovkovychna Street, 17/2, known to Kyiv residents as the Chocolate House.
For the event was chosen a special location that best reflect the spirit of the collection. This was a monument of history and architecture – a mansion built in 1898-1901 by the chief architect of Kyiv, Academician of Architecture Vladimir Nikolaev on the order by famous industrialist, financier and philanthropist Semen Semenovich Mogilevtsev.  The interiors of the rooms, made in different architectural styles, emotionally enhanced the idea of ​​performance and contributed to the emphasized backstage, even intimacy, of the event.  Famous Ukrainian model and blogger Dmytro Sukach tried on looks of the collection in a stylized men's dressing room.
The guests of the presentation-performance were media representatives, buyers, stylists and clients of the brand. During the event, guests had the opportunity to get acquainted with the new collection and have a conversation with designer Yadviga Netyksha about the inspiration and new style of the brand in the direction of historical military.
The YADVIGA NETYKSHA FW21-22 collection, which was presented at the Ukrainian Fashion Week in September in the format of a fashion show – fantasy steampunk combined with aristocratic images of Olexii Vronsky, Mykola Rostov, Pierre Bezukhov, inspired by science fiction "More than a man" ( T. Sturgeon), "Man without a Face" (A. Bester) and "Gattaka" (dir. E. Nikkol). The «Mr Robot collection» is filled with the idea of ​​the superman, boundless faith in dreams and the power of the spirit to exceed human potential.
The collection consists of 32 pieces: knitted sweaters, pants, shirts and coats, stylized as military uniform. They are the signature of the brand.
"I would like to express my sincere gratitude to Valerii Rodin for his support in creating the collection, mentoring and assistance in the full cycle: from the development of the collection to the production and organization of the show," – designer Yadviga Netyksha says.
Famous international media resources have already written about the new collection of the Ukrainian brand YADVIGA NETYKSHA: Fucking Young!, METAL Magazine, i-D Italy and others.
Photo: Valerie Veduta